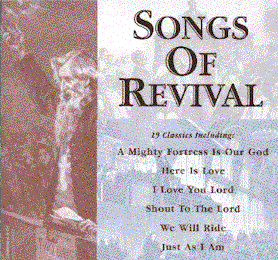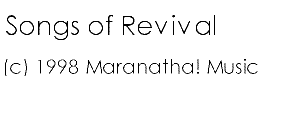 This CD gives fascinating insights into Church history, with songs that have been associated with great movements of God: The Reformation, the Great Awakening, the Welsh Revival, the Billy Graham Crusades, the Jesus Movement, Promise Keepers, the Hillsongs (from Australia) and more. No matter when you came to the Lord, chances are you'll find a song here that transports you back. Selections are performed by a variety of artists, some that are familiar to you and some that might not be. Check out the sample sound clips below: click the title to hear the sample.
A Mighty Fortress Is Our God
This ancient hymn by Martin Luther has also become associated with the modern-day Promise-Keepers movement.
Seek Ye First
Our Lord Jesus taught us the secret of happiness with these words, put to music during the Jesus Movement at Calvary Chapel.
The Power of Your Love
One of the two most-popular songs in Australia, arising from Hills Christian Life Center.
Shout To The Lord
This is the other Australian song -- and it's become a great favorite at our home church in San Diego as well.
Other songs on the CD:
When I Survey The Wondrous Cross
Here Is Love
Take My Life And Let It Be
Come Just As You Are
Isn't He
Godly Men
Rise Up O Men Of God
Lord, I Lift Your Name On High
Just As I Am
I Love You, Lord
Sweet Wind
We Will Ride
Shine, Jesus, Shine
Jesus, Mighty God
Breathe On Us Again

All songs ASCAP except as noted* (BMI).
(P) & (C) 1998 Maranatha! Music, a div. of The Corinthian Group, P.O. Box 31050, Laguna Hills, CA 92654-1050. Maranatha! Music and the Dove are trademarks of The Corinthian Group. WARNING: Unauthorized reproduction is prohibited by federal law.